AAUW ANNOUNCES 2018-2019 NATIONAL
SCHOLARSHIP RECIPIENTS
The Thousand Oaks branch, over its 50+ year existence, has funded three national scholarships:
The Ann Bratmon Career Development Scholarship,
The Marilyn Car-penter Career Development Scholarship and
the Thousand Oaks Branch 30th Anniversary American Fellowship.
Recipients
Marien Rios-Hernandez from the University of California Riverside will receive an American Fellowship to complete her PhD partially funded by the Thousand Oaks Branch. Marien is completing a PhD in Music with a specialization in Queer Chi-cana/Latina transnational punk. Her project name: We Were There-From Alice Bag to Emos the War on Punk and Sonic Latinidades. Marien uses her background in ethnic studies, humanities and arts training as a musicologist to explore the Los An-geles and Latin American punk scenes from 1977-2001.
Daisy Muralies is the current information and reference specialist at the University of California Santa Barbara, Special Research Collections. Her master's work will emphasize services for diverse users and underserved populations. She is receiving funding from the Marilyn Carpenter and the Ann Bratmon Funds.
These scholarships were made possible by contributions to AAUW Funds by branch members many, many years ago. Your current donations to AAUW Funds continues to assist current academic scholars.
---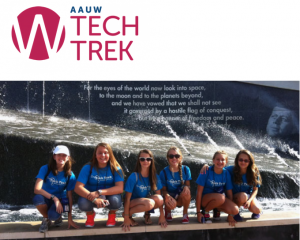 THEREFORE BE SURE TO VISIT

OUR STORE
For questions, contact The AAUW Funds AAUW TO Branch Director